By Karen Goveia — The opposition cleared a major hurdle last night in its attempt to stop a 71-acre, 286 single-family home development between Anthem and New River. By a resounding and somewhat surprising 6-0 vote, the Rio Vista Planning Committee, an advisory committee to the City of Phoenix, recommended denial of a rezoning request to allow the proposed development to proceed.
Despite city staff's recommendation to approve the Valley Ridge Estates project with a lengthy list of modifications and requirements, which the developer spent the last several months addressing, the committee's collective voice was loud and clear at the end of the nearly two-hour meeting at the Goelet A.C. Beuf Community Center on Pinnacle Peak Road. About 100 concerned citizens attended.
The proposed development site is east of I-17 between Circle Mountain and Jenny Lin roads.
Surprising Vote
Phoenix had given signs it would support the project. Last year, upon request from the applicant, the city amended its long-range land-use planning map, changing the property's designation from commercial to residential to allow for 3.5 to 5 dwellings per acre. But for the project to move forward, the property still requires a formal and specific zoning change from commercial to residential.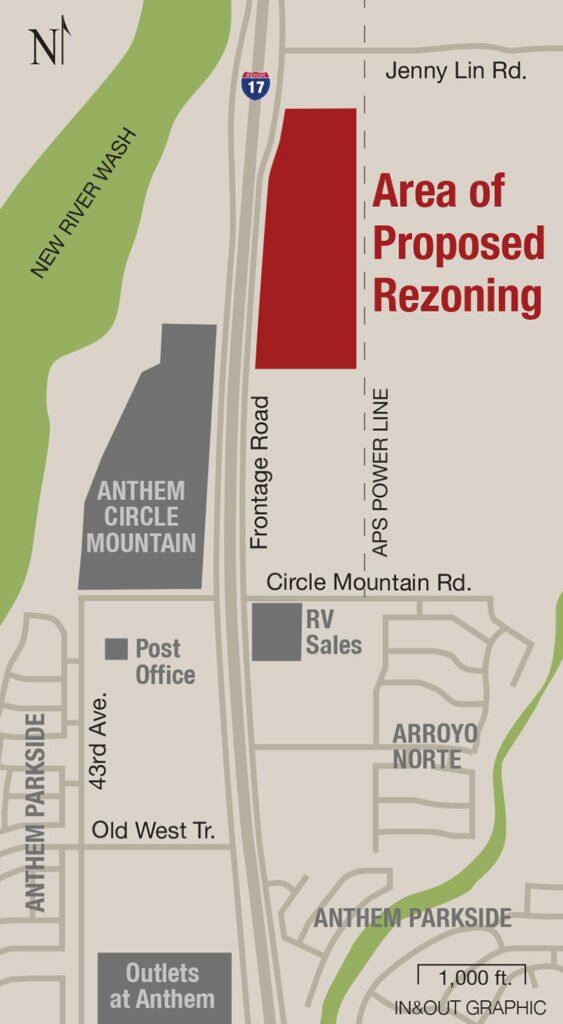 Results of a traffic statement presented showed the development's potential to double the traffic during morning and afternoon peak hours.
Those estimates didn't sit well with audience members who pointed out the traffic count was completed on a Thursday before Labor Day weekend, which may not have not accurately represented traffic volumes. They argued the study didn't take into account the impacts to the Anthem Way and New River Road exits from I-17.
Other concerns expressed included the number of accidents on the freeway, which already causes increased traffic along frontage road via Navigation Way in Anthem, as well as the impact of accidents on emergency response times.
"I was there this morning by the Anthem area where you have stop signs near three subdivisions… it's not going to be OK," said Ozzie Virgil, a Rio Vista Committee chairperson. "Most of these people that are here live in the area and they're the ones going to be impacted, and you just can't leave a mess for other people to clean up and expect the city to deal with it."
Not Over Yet
City Village Planner Kaelee Wilson said if the project were to move forward, MCDOT would require a more detailed traffic impact study to determine if future roadway improvements are needed north or south of the project, and any potential improvements could be required to be performed by the developer.
Density of homes, effect on schools, police and fire services and preserving the area's rural feel and dark skies continue to be concerns expressed by nearby rural and suburban residents as well as Anthem Community Council. Board members also expressed concerns about emergency response times, dark skies and further impacts to Anthem's privately owned parks and amenities.
Before making a motion to deny the rezoning request, board member Steven Scharboneau pointed out the sheer number of community members and representatives from organizations, including Anthem Community Council and Anthem homeowner's associations that have spoken out against the project.
The case is scheduled to be heard by the City Planning Commission, which is the next group involved in the approval process. Input from the Rio Vista Planning Committee will be considered at the meeting. The last step in the process would require approval of City Council, tentatively scheduled for the Nov. 7 regular meeting.
Be Heard
Planning Commission Meeting
6 p.m., Thursday, Oct. 4
Council Chambers
200 W. Jefferson Street, Phoenix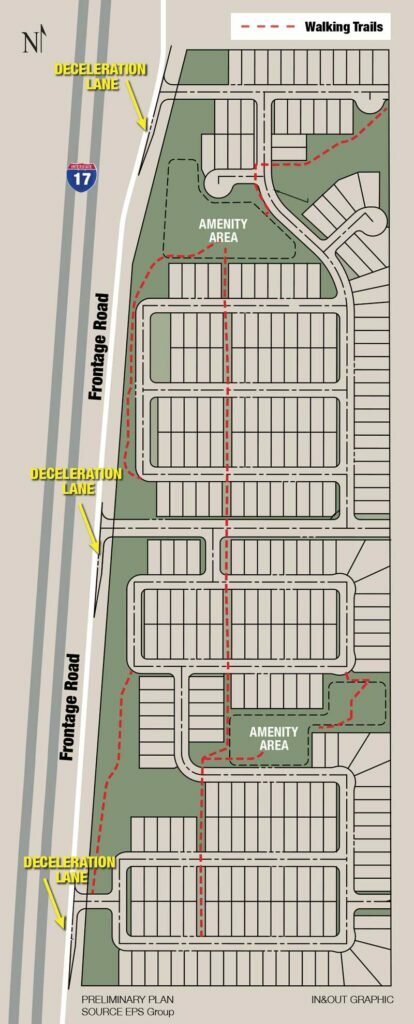 ---
Editor's Note: An earlier version of this story stated the proposal involved 283 homes. It has been corrected.
---
 This article first published on North Phoenix News.