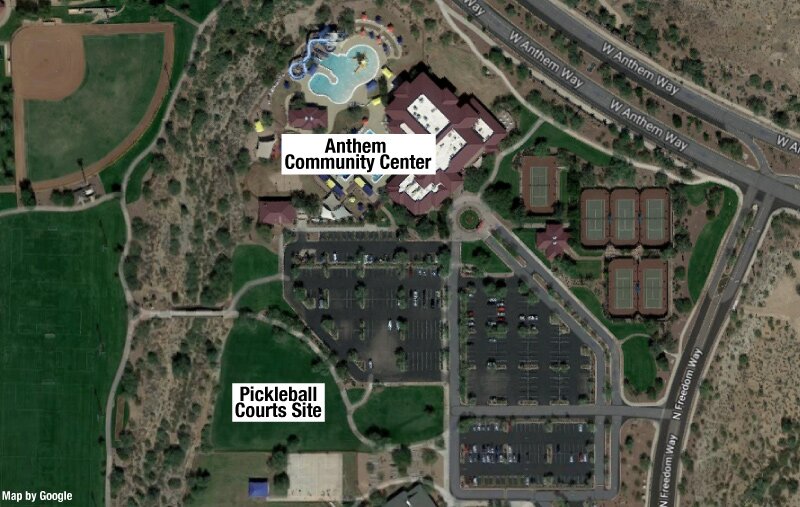 Anthem is one step closer to having dedicated pickleball courts by the end of this year, and the community's pickleball players are thrilled.
A request for proposals to design and build the courts was distributed last week to area architects and park contractors, Community Operations Officer Neal Shearer said Wednesday night at Anthem Community Council's monthly board meeting. Proposals are due back Feb. 7. Shearer said staff will aim to recommend a design and construction team for the ACC board to approve at its next regular meeting, Feb. 28.
"Barring unforeseen delays, the pickleball courts are planned for completion by the end of 2018," according to a statement provided to the board by Shearer and staff.
'Very Excited'
Pickleball is somewhat of a cross between ping-pong and tennis, played on a badminton-sized court with oversized ping-pong paddles that whack something similar to a Wiffle ball. The sport has some 2.8 million participants in the United States, according to the Sports & Fitness Industry Association.
The courts will be constructed in what's now a grassy area at the southwest corner the Anthem Community Center parking lot, a spot that's been used for pee-wee soccer. (The soccer fields could be shifted to other areas in the community park and perhaps Opportunity Way Park, according to Anthem officials.)
Members of the AnthemAZ Pickleball Club—which currently plays at the Community Park roller hockey rink and at the Persimmon tennis courts in Country Club—have supported the project and worked with council to develop it.
"The club members are very excited about the new courts," said member Don Trefry, who serves as an ambassador to the sport's national group.
"Being near the Community Center will be convenient for our club members and residents," Trefry said. "The substantial parking will allow the community to stage tournaments and special events that will further promote the sport and our wonderful community."
The plan calls for 10 lighted courts with seating, but the final plan will be subject to ACC approval. The courts will be open to Anthem residents and their guests, Trefry said.
Part of Master Plan
The preliminary estimate for the pickleball courts, made nearly a year ago, was $600,000. Construction costs have risen since, so new estimates could go up, said ACC spokesperson Kristi Northcutt.
The project, seen by proponents as a vital addition to a modern master-planned community, is one of four enhancement projects set in motion in a series of ACC decisions last year that included staggered start dates and estimated completion dates. The others:
Community Center remodel

 (currently underway)

Dog park planned to open by end of 2019

Skate park expansion to be completed by late 2020
The projects will be paid for primarily from the community's enhancement fund, which is fed by a quarter-percent fee on the sales price of homes. It is earmarked for enhancements that benefit the community, not for operating costs. The fund, most recently used to build Opportunity Way Park on the west side of Anthem, sits at $1.8 million, according to Community Financial Officer Doug Greenstein.
---
This article first published on North Phoenix News.